The technology of our manual or human-powered water pumps has been reliable and proven since 1974.

Technical advantages : The hydraulic transmission patented by VERGNET HYDRO replaces the rod transmission of conventional manual pumps. This principle limits mechanical forces and wear on moving parts. The service life of a VERGNET HYDRO pump is longer than the service life of a rod-rod pump.
Economic advantages : VERGNET HYDRO pumps are manufactured in France and installed by our authorised teams who themselves train the people in charge of local maintenance. This process guarantees the supply of reliable and high quality manual pumps at a low cost over the life of the product.
Ergonomic advantages : Complying with Village Level Operation and Maintenance (VLOM) standards, our pumps are easy to install in wells and boreholes. Half an hour is enough to install a pump at a depth of 40 meters without the need for lifting.
Foot-operated water pumps
The benchmark for village water supplies involving medium-depth boreholes and wells.
The foot operated pump for extra deep boreholes and wells.
Hand-operated water pumps
Case of the repairing craftsman

A complete workshop in a customizable and practical carrying case (10 kg).
Spare parts (after-sales service)
VERGNET HYDRO has 350 spare parts depots in 35 countries in Sub-Saharan Africa and a network of more than 3,500 approved repairers. 
Are you looking for one or more spare parts for your manual water pump? Call on our After-Sales Service!
Responsiveness : Thanks to a network of more than 30 local partners around the world, our logistics and IT resources enable us to manage our stock of spare parts. This advantage best guarantees the availability and durability of your drinking water supply installations.
Competence : The 3,500 repairers in the network are trained by VERGNET HYDRO. They all receive certification at the end of their theoretical and practical training.
Are you looking for a VERGNET HYDRO spare part? Contact your local dealer
We also sell spare parts kits :
 Wear Kit HPV60-2000 and HPV 30-2000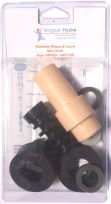 To repair the "control" (pedal) part of a pump circuit.
Wear Kit HYDRO INDIA simple
To repair the "control" part (piston subassembly) of a pump circuit.
Wear Kit HYDRO INDIA intensive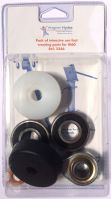 To repair the "control" part (piston subassembly) of the circuit as well as the bearings and the ball joint of a pump.
Seal Kit for HPV60-200 and HPV100 
To replace the most sensitive seals.