Pandemics, armed conflicts, inflation: what doesn't kill you makes you stronger!
Armed with resilience in a turbulent context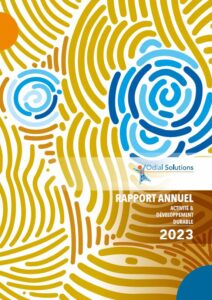 Our business and our activities mean that we regularly need to travel by air. We all dread, to a greater or lesser degree, hitting turbulence. Getting shaken about during a flight is no pleasant experience. AIRBUS announced at the turn of this year that it had carried out very promising tests of a new "folding" wing profile, reducing not only the effects of turbulence on passengers but also – the icing on the cake – reducing kerosene consumption by around 20%. Ultimately, by tackling a problem head on, the R&D engineers at AIRBUS have made progress which brings benefits on two major fronts.
I would be tempted to draw a parallel with what we have been going through for nearly 3 years now. All the turbulence in the markets, in economic life, which started in March 2020, continues to be felt to this day, and just as tangibly. First the pandemic, then the war in eastern Europe in February 2022, and which continues to rage, with the consequences we all have to face every day: inflating energy costs, a galloping rise in the price of commodities, geopolitical contexts in flux, and so on.
We could just throw up our hands in dismay in the face of all this turbulence. But that is not how we are made. On the contrary, if this turbulence is going to shake us up, it needs to shake us up for the better and, like AIRBUS, we have to seize this opportunity to seek solutions that will make us stronger every day.
New internal organisation to meet market expectations
And we are getting there, as is testified by the upturn in our margin and our revenue compared to 2021. So what were the two big projects put in place?
The first is to offer an even more suitable response than that available until now for supplying water to the populations of sub-Saharan Africa. This may appear obvious, but for an industrial player like VERGNET HYDRO, which has built its historic reputation in the distribution of water by hand or pedal pump, it constitutes a mini-revolution. The inhabitants of African villages no longer dream of getting their water supply from a human-operated pump installed in the village, but from a tap in their yard. And even if the hand pump still allows millions of people living in rural communities to get water, the market trend is declining in favour of drinking water supply systems (DWS), more complex infrastructures with their production and treatment stations, their storage facilities, and their water distribution points. VERGNET HYDRO is ringing the changes and constantly consolidating its position as the go-to supplier for water supply facilities in Africa.
The second big project involves adapting our teams to respond to these new markets. More complex markets need to be addressed through more efficient organisation. The supply chain department created in 2021 has now become an Operations department, ensuring improved supply chain management to provide our customers with all kinds of materials – which are often complex, sometimes unique – from order placement to the preparation and dispatching of packages. This organisation is of course perfectible, but we are resolutely on the path to improvement. Production is spread over the year and Vergnet Hydro revenue, up 20%, has been absorbed by improving our productivity through working more efficiently.
Supporting the skills ramp-up of our African subsidiaries
There are still lots of areas to be reinforced, such as ramping up the skills of our subsidiaries in Africa which, ultimately, need to become the driving force of our activities. It is they who, with the support of head office, will be responsible for the Group's future revenues.
This skills ramp-up is underway, but at varying levels. SAHER is benefiting from the dynamism of Côte d'Ivoire. UDUMA MALI and VERGNET BURKINA are striving to succeed in increasingly precarious security contexts. Above all, however, things are happening in Benin where our OMILAYE subsidiary, which is held jointly with the ERANOVE Group, signed its first major contract in April 2022. With the aim of supplying more than 9 million Beninese with drinking water within 10 years, this contract is a major motivational factor. Equipment transfer, diagnostics, construction works, commercial development, seamless distribution of water to users… such is the day-to-day work of an on-site team that is growing daily.
Maintaining our activities in often precarious security contexts
In Mali, despite a very complicated local geopolitical context, we are continuing our activities on 3 drinking water supply system (DWS) construction projects, funded by Germany, Belgium and the European Union.
We do not boast about these activities. We remain prudent. Security plans have been implemented to protect our personnel and our partners, who are courageously working in these zones.
We are also going to launch our first DWS construction projects in Chad, a country where our revenue only previously came from the distribution and installation of hand pumps.
The development and promotion of our drinking water services
We are making strong activity inroads in many other countries of central Africa, but also around the Gulf of Guinea. In Côte d'Ivoire, 2022 was marked by the deployment by VERGNET HYDRO and its SAHER subsidiary of autonomous, solar-powered water distribution points installed on renovated distribution points that initially ran off human-operated pumps. UDUMA provides a management solution for this.
Our management solutions come under particularly close scrutiny by the financial partners and contracting clients. At their request, our teams regularly participate in conferences and seminars. We are continuing our collaboration with the UPTIME research programme initiated by Oxford University with a view to testing other forms of financing for running the infrastructures linked to water distribution in a rural context. In 2022, we saw an almost 50% increase in our audience (social media and websites) with an ever-higher number of followers, demonstrating the curiosity and high level of interest that we are able to generate.
We are and shall remain a partner for development in Africa, and we shall above all reinforce this in conjunction with our colleagues and partners. This is something that we hold dear.
Christophe LEGER,
Deputy Managing Director, VERGNET HYDRO, ODIAL SOLUTIONS group
To know more :
2023 Annual Report