Our purpose statement: Africa, the source of our commitments to the planet!
We will draw on our fifty years' experience in supplying water and energy as we continue to work with the populations in rural and isolated areas to tackle the major challenges they face. We aim to bring everyone a future where well-being and conservation of resources can coexist. Respect, adapt, innovate.
ODIAL SOLUTIONS Group joined the United Nations Global Compact on 28 January 2010.
This GLOBAL COMPACT brings together businesses, non-profits and United Nations agencies through a commitment to ten universally recognised principles. "These principles offer a framework for organisations that are committed to adopting sustainable practices. "
Each year, we renew our commitment to the GLOBAL COMPACT by publishing a new Communication on Progress. In May 2021 we adopted a QE-CSR Policy.
In line with this, the CSR commitments for ODIAL SOLUTIONS group are the Following:
Innovate to make rural areas in Africa more attractive
ODIAL SOLUTIONS group's core business is helping people in rural areas of Sub-Saharan Africa to access basic services, and particularly drinking water. The services its companies provide are responses to article 25 of the Universal Declaration of Human Rights ("Everyone has the right to a standard of living adequate for the health and well-being of himself and of his family, including food") and to the recognition by the UN of access to drinking water as a human right in 2010. Through their technical and social innovations, the group's companies are clearing away the economic and political barriers that have historically blocked access to long-term services in sub-Saharan Africa.

EXAMPLES OF INITIATIVES:
Undertake a societal impact study into ODIAL SOLUTIONS' business activities
Plan for the needs of the future
Raise awareness of CSR among our partners in Africa
 REFERENCE DOCUMENT :

"Our vision, our ambitions" charter
Boost staff engagement in our aims
ODIAL SOLUTIONS is a simplified limited company incorporated in France. We work to both French law and international labour standards: staff representatives to defend workers' rights, no forced labour, no child labour, etc. And we go beyond these international standards. Our priorities are to achieve high levels of well-being and a positive atmosphere at work for all our teams and to select partners that share our values.
EXAMPLES OF INITIATIVES:
Facilitate the organisation of team-building events
Encourage cycling as a mode of transport
Use in-house mini training sessions to improve staff's skills in specific areas and to promote communication on these subjects between different departments
REFERENCE DOCUMENTS:
"Disconnect" charter (internal document)
"Remote working" charter (internal document)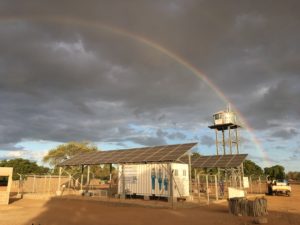 Reduce the environmental impact of our activities
Through our industrial and commercial business activities, we offer solutions that strengthen populations' resilience to climate change in sub-Saharan Africa, where its effects are particularly devastating. Moreover, our company combines a culture of reuse and waste reduction with a genuine commitment to the environment.
EXAMPLES OF INITIATIVES:
Analyse the total environmental impact of our products and services
Set up a monitoring system for all staff travel with a view to optimisation
Create a strategy to digitise part of our documentation
REFERENCE DOCUMENTS:
Promote good governance
Not only must our group constantly meet the transparency requirements of public financial institutions, because most of our business is awarded through international tenders, but we also work in our own capacity to fight corruption. The Uduma model is in itself an efficient response to fraud and clientelism in the management of water in Sub-Saharan Africa.
EXAMPLES OF INITIATIVES:
Write a good governance charter
Continue to develop service management tools that optimise services and transparency for customers and users.
Write a formal responsible sourcing charter
REFERENCE DOCUMENT: