ODIAL SOLUTIONS: Publication of the 2021 Integrated Report
2019 had been the year of change… 2020 has been a year unlike any other.
Our priority: protecting colleagues and users from COVID-19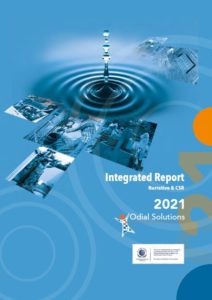 2020 was the year in which a minuscule virus threw a spanner in the generally well-oiled works of how the planet is run, calling into question our conventional convictions about global development.
On 16 March 2020, we were stunned by the news we would have to go into lockdown, and effectively put the brakes on our economy. We were alarmed by the speed at which the epidemic spread. Governments around the world began putting in place drastic measures to contain the scourge and borders began closing one after another.
While here in Europe we have well-organised and highly developed healthcare systems, our thoughts turned immediately to our African friends who are a lot less fortunate. We imagined the worst, with populations decimated by a wave that would inexorably hit the countries where we normally work. So what could we do, on our level, to battle this incredible pandemic?
One avenue involved working with our human resources department and staff representatives to roll out a healthcare plan, and not only within our French companies, but also for the benefit of our African subsidiaries. It was the least we could do. We also needed to think about our users who come every day to collect water from the pumps or public standpipes of our drinking water supply networks run by our African subsidiaries.
Preempting the politicians, we launched Operation Clean Hands to tackle COVID-19 in Burkina Faso. More than 300 hand washing stations were produced locally and delivered to our drinking water distribution points in record time. Soap was delivered everywhere. Pump operators were supplied with masks to protect themselves, and to protect those coming for water.
One business that kept going: clean drinking water – a weapon against the pandemic
Yet aside from this operation, African governments were quick to react by allowing work on constructing facilities to access drinking water to continue; water had become such a precious commodity in fighting the epidemic. Without water you cannot wash, you cannot use soap, you cannot get rid of a virus before it becomes more than skin deep.
Unlike many other French companies, which unfortunately had to put staff on furlough, the ODIAL SOLUTIONS Group kept working; more than 1.3 million people in sub-Saharan Africa obtained access to drinking water thanks to the group's projects and equipment in 2020. Flagship network construction and energy production projects were carried out in Côte d'Ivoire, Mali and the Democratic Republic of Congo.
Swimming against the "all pipes" tide promoted by many politicians, highly justifiable but also extremely costly, in 2020 VERGNET HYDRO even completed its range of human powered pumps with the MPV 100: a deep well manual pump and something for which developers had been clamouring for years. We hope that this new pump will help achieve Goal 6.1 of the Sustainable Development Goals: "Access to drinking water" (SDG, Agenda 2030).
CSR, at the heart of the group's new strategy
This pandemic has shown us all just how fragile world stability can be. Bad human habits are not only a causal factor in climate change, in many places they also create societal, social and economic imbalances. This is where the SDGs come even more to the fore. If we had already achieved these goals, would 2020 have mapped out in quite the same way?
As well as providing a political roadmap, the SDGs can also be rolled out at corporate level Corporate Social Responsibility (CSR) is a reflection of this. We are going ahead with our ODIAL SOLUTIONS CSR Action Plans 2018-2023, pursuing our company initiatives and sometimes going an extra mile. Yet there still remains to much to do. For instance, we have strengthened our aim of placing CSR at the heart of all we do by getting all Group personnel – and there are more and more of them – to reflect in depth on our Purpose Statement. This Purpose Statement: "Africa, the source of our commitments to the planet!", is part of a new strategy that we have defined collaboratively.
Through this integrated report, you will learn more of what our group is all about. Enjoy your reading.
Christophe LEGER,
Deputy Managing Director, VERGNET HYDRO, ODIAL SOLUTIONS Group 
To know more :
2021 Integrated Report