VERGNET HYDRO and AFRIDEV MATI: First project of solar-powered water supply networks in Mozambique
VERGNET HYDRO and AFRIDEV MATI: First project of solar-powered water supply networks in Mozambique
"VERGNET HYDRO has just concluded its first project in Mozambique to provide solar-powered water supply networks in rural areas", says Thierry BARBOTTE, CEO of VERGNET HYDRO. 10,000 rural people now have continuous access to clean and safe water thanks to this advanced technology. "I feel very pleased to be more and more active in this country and to reinforce our promising partnership with the local company AFRIDEV MATI [Maputo, Mozambique]."
Joël MENAGER, R&D technician at VERGNET HYDRO, helped to complete this project by providing an extensive quality control of the equipment which took nearly two weeks, ending June 9th. This procedure was required because AFRIDEV MATI didn't have the technical experience of that kind of projects with VERGNET HYDRO yet. It was even more required that the project includes, among the nine tanks, the first VERGNET HYDRO On Fill Water Tank (OFWT) set up in Mozambique (seven-meter high and 32,000-liter tank).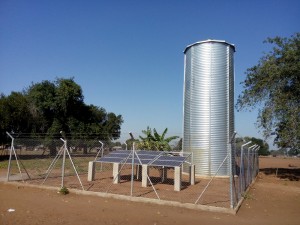 All in all, nine drinking water supply networks have been set up in this project, in less than a year. The nine villages taking advantage of these water networks are located in the Gaza province; they are Buiela, Chidulo, Chissapa, Chizumbane, Mapai Ngala, Mapanhe, Muzamane, Pfukwe and Tchale. This 640,000-euro project was completely funded by the Belgian Cooperation.
"We have chosen to maintain a close partnership in this project", states Romain DUBREUIL, the Prospection Manager of VERGNET HYDRO. VERGNET HYDRO and AFRIDEV MATI have recently signed a contract which maintains the close cooperation between them. VERGNET HYDRO has the responsibility to manage the project, performs the initial technical studies and supplies the equipment. AFRIDEV MATI is then responsible for the construction of the infrastructure at the various locations.
The partnership between VERGNET HYDRO and AFRIDEV MATI is based on a win-win relationship
The main water lines used in this project were manufactured in Mozambique. "We try to involve local SMEs in our businesses as much as possible", Thierry BARBOTTE asserts. VERGNET HYDRO has clearly supported the growth of the young SME AFRIDEV MATI up to now. "Thanks to our partnership with VERGNET HYDRO, we have indeed been able to hire six new employees", reports Dario AMADE, Managing Director of AFRIDEV MATI.
The partnership between VERGNET HYDRO and AFRIDEV MATI is based on a win-win relationship. "For example, we have just won a new business for five new drinking water supply networks in the province of Gaza [8,300 rural people]. The final work acceptance is scheduled for December 2017 ", Romain DUBREUIL declares.